| Joyce's Residences in Zurich | FinnegansWake Sites |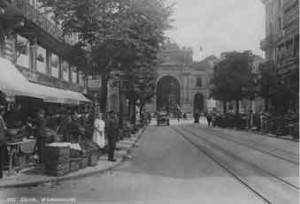 Bahnhofstrasse
"Bahnhofstrasse", a poem written in 1918 after Joyce had had his first attack of glaucoma in Bahnhofstrasse in 1917.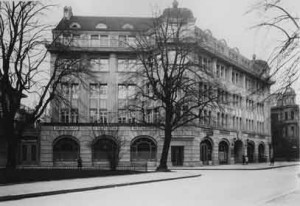 Kaufleuten
In 1918, The Importance of Being Earnest was performed here by the English Players with Henry Carr (reimmortalised by Tom Stoppard in Travesties). The Kaufleuten is again used as a theatre.
Pfauen Cafe
Meeting place with Budgen during the First World War where Joyce often drank Fendant white wine ("Erzherzogin": "archdiochesse … artstouchups …", FW 171.25). Heimplatz or Pfauen is now part of the Santa Lucia restaurant chain. (A peacock sign is all that remains of the inn from Joyce's time. The interior has  been completely renovated)
Platzspitz
Meeting of the Waters, Limmat and Sihl, park behind the main station, site of Joyce photographs 1938.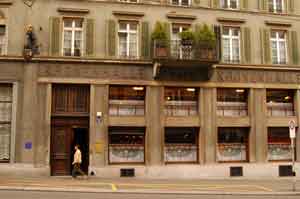 Kronenhalle Restaurant
A restaurant patronised by Joyce in the thirties. The Kronenhalle people generously supported Nora Joyce in the years after Joyce died. There are famous paintings on the walls. Situated at Bellevue, at the bottom of Rämistrasse.
Frank Budgen
Statue by August Suter, Amtshäuser,  Uraniastrasse 9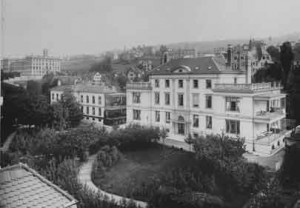 Schwesternhaus zum RotenKreuz
Gloriastrasse 18, where Joyce died 13 January 1941. Now the "Careum" – School of Health.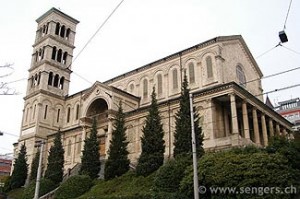 Liebfrauenkirche
Weinbergstrasse 34 (tram 7, 15 and 10 "Haldenegg"): where Joyce used to attend Good Friday Services.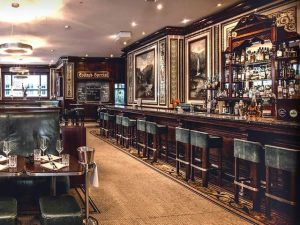 James Joyce Restaurant & Bar
Pelikanstrasse 6 (off Bahnhofstrasse, 5 minutes from the Joyce Foundation), originally Jury's Antique Bar in Dame Street, Dublin.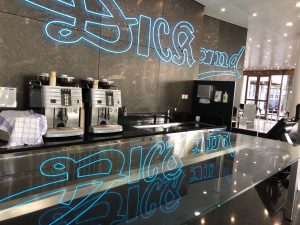 Dick & Davy
Mensa for medical students, designed by Hannes Vogel (1990), based on (Gogarty's and Joyce's) "Medical Dick" and "Medical Davy". The relevant Ulysses passage is in several languages on the outside pillars. The ceiling represents the night sky of 16 June 1904.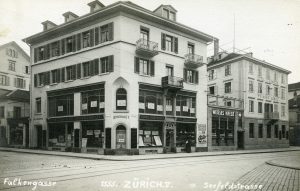 Zum Weissen Kreuz
This is where the "Club des Etrangers" met. Among its members, Joyce found a number of English pupils, some of whom became his good friends, including Paul Wiederkehr, a wine merchant; Paul Phokas from Greece; and Paul Ruggiero,  a banker and friend who helped make it possible for the Joyces to reenter Switzerland at the end of 1940. The restaurant changed ownership in the early 1940s. Since then, there has been a restaurant called "Weisses Kreuz" at Falkenstrasse 27.  More images 
Zurich James Joyce Foundation
How to get there
Bahnhofstrasse Area:
Hotel St. Gotthard
Bahnhofstrasse 87
Hotel Carlton Elite
Bahnhofstrasse 41
James Joyce Pub
Pelikanstrasse 8
Zürich James Joyce Foundation
Click here
Kaufleuten
Pelikanstrasse 18, near the James Joyce Pub
Sihlpost :
Main post office ("the sillypost"), to the right of the main station (Hauptbahnhof).
Gasthaus Hoffnung :
Reitergasse / Lagerstrasse: beyond Sihlpost, no longer a hotel
Seefeld Area :
Trams No. 2 or 4 as far as "Kreuzstrasse" or "Feldeggstrasse"; all within easy walking distance
Reinhardstrasse 7
off Seefeldstrasse (hill side)
Kreuzstrasse 19, third floor
off Seefeldstrasse (lake side)
Seefeldstrasse 54, ground floor right
slightly set back, behind No. 56
Seefeldstrasse 73, third floor
Universitätstrasse:
Trams No. 9 or 10 to "Haldenbach"
Universitätstrasse 38
When you exit the tram you are facing Universitätstrasse 38. There is a plaque and the faded name "Fortuna" on the facade. Walk around the side of the building to see "Station Ulysses". Behind it you will see a part of the university that was once the Maternity Hospital (Frauenklinik): for months Joyce had the Zürich equivalent of Holles Street right under his eyes.
Universitätstrasse 29
Across the street and down the hill from Universitätstrasse 38.
From his window Joyce could see Marthe Fleischmann's window; she lived at Culmannstrasse 6 (probably now No. 8).
Fluntern :
Tram No. 5 or 6 to the Zoo.
Fluntern Cemetery (Friedhof)
The cemetery is right behind the terminal: take first entrance, go up an avenue of birches as far as it goes, then turn right and look for the steps (on your left) that take you to the statue made by Milton Hebald and inaugurated on Bloomsday 1966.
Dick & Davy Cafeteria for Medical Students
Universitätsspital
Eingang Hörsaal Ost (Gloriastrasse)
Trams No. 5 or 6 to "Platte"