S t r a u h o f   L e c t u r e   S e r i e s
Die Frank Budgen Hommage von Montag, 16. März 2020, 19.30 Uhr wird verschoben.
Ein neues Datum werden wir zu einem späteren Zeitpunkt mitteilen.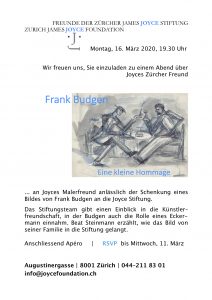 S e m i n a r s   &  W o r k s h o p s
University Seminars
Fritz Senn, the Director of the Zurich Joyce Foundation, regularly conducts colloquia and seminars on Joyce for the English Seminar, University of Zurich as part of the university curriculum. During the Autumn  Semester 2020, the Ulysses course will be held on Wednesdays from 8:00 to 9:45 at the Foundation.
August Workshop
---