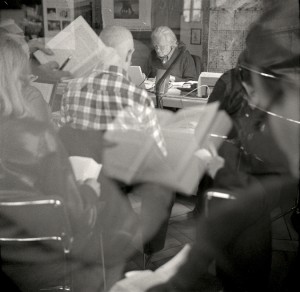 The Zürich James Joyce Foundation has been conducting weekly reading groups of Ulysses and Finnegans Wake for years. The aim is a thorough but leisurely and relaxed ramble through the works, step by step, with comments and discussion. It should bring out the vitality and humor of what so many potential readers shy away from but others become addicted to.
All groups can be joined at any time. Newcomers are always welcome.
Photo by Leonardo Pellegatta
leopellegatta.org
Monday 3:00 – 4:30 Finnegans Wake
This reading group has moved online on Thursday.
Blog
Tuesday 5:30 – 7:00 Ulysses 
This group has merged online with the Thursday reading group.  
Blog
Thursday 4:30 – 6:00 Ulysses
The Thursday Ulysses reading group has gone online.
Audiofile Reading Group 24 March 2022
Audiofile Reading Group 17 March 2022
Audiofile Reading Group 03 March 2022
Audiofile Reading Group 24 Februar 2022
Audiofile Reading Group 10 Februar 2022
Audiofile Reading Group 03 Februar 2022
Audiofile Reading Group 20 January 2022
Audiofile Reading Group 13 January 2022
Audiofile Reading Group 06 January 2022
Audiofile Reading Group 23 December 2021
Audiofile Reading Group 16 December 2021
Audiofile Reading Group 02 December 2021
Audiofile Reading Group 11 November 2021
Audiofile Reading Group 04 November 2021
Audiofile Reading Group 28 October 2021
Audiofile Reading Group 14 October 2021
Audiofile Reading Group 07 October 2021
Audiofile Reading Group 30 September 2021
Audiofile Reading Group 23 September 2021
Audiofile Reading Group 16 September 2021
Audiofile Reading Group 11 September 2021
Audiofile Reading Group 02 September 2021
Audiofile Reading Group 26 Augus 2021
Audiofile Reading Group 19 Augus 2021
Audiofile Reading Group 12 Augus 2021
Audiofile Reading Group 05 Augus 2021
Audiofile Reading Group 29 July 2021
Audiofile Reading Group 22 July 2021
Audiofile Reading Group 15 July 2021
Audiofile Reading Group 08 July 2021
Audiofile Reading Group 01 July 2021
Audiofile Reading Group 24 June 2021
Audiofile Reading Group 17 June 2021
Audiofile Reading Group 10 June 2021
Thursdays 7:00 – 8:30 Continuous Finnegans Wake
This reading group, which is now on its fourth round, is addictive. Some of the members have been coming back for decades but they cannot get enough of the Wake.
Blog