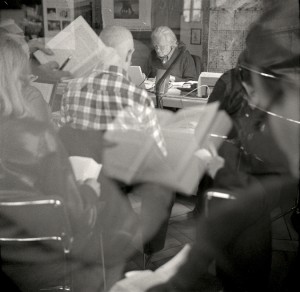 The Zürich James Joyce Foundation has been conducting weekly reading groups of Ulysses and Finnegans Wake for years. The aim is a thorough but leisurely and relaxed ramble through the works, step by step, with comments and discussion. It should bring out the vitality and humor of what so many potential readers shy away from but others become addicted to.
All groups can be joined at any time. Newcomers are always welcome.
Photo by Leonardo Pellegatta
leopellegatta.org
Watch Fritz Senn and the Finnegans Wake reading group on the "Literaturclub" on Schweizer Fernsehen (26 April 2011).
Please note that all reading groups have been suspended until further notice. We will update information on this website and the blogs when available.
Monday 3:00 – 4:30 Finnegans Wake
This reading group is ideal for new readers of Finnegans Wake.
Blog
Tuesday 5:30 – 7:00 Ulysses
This leisurely and detailed reading with commentary and discussion started again on 19 November 2019. 
Blog
Thursday 4:30 – 6:00 Ulysses
This slow but lively reading of the Ulysses  started again on 24 October 2019. 
Blog
Thursdays 7:00 – 8:30 Continuous Finnegans Wake
This reading group, which is now on its third round, is addictive. Some of the members have been coming back for decades but they cannot get enough of the Wake.
Blog