Library Opening Hours
The Foundation's official opening hours are from 10 to 5 p.m. from Monday to Friday and by appointment.
Library Holdings
Books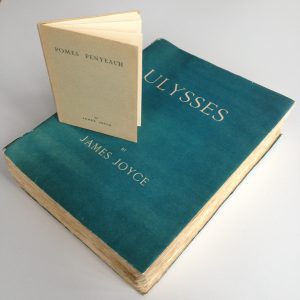 The core of the Foundation is a library of more than five thousand volumes. It contains Joyce's works in various editions, among them some first editions, or illustrated editions and some collectors' items. The author's numerous notes, drafts, corrections, proof sheets and revisions of nearly all his works are available in facsimile volumes. There are dozens of translations into more than forty languages (including Korean, Japanese, Georgian, Basque, Uzbek and Malayalam) and, of course, an extensive body of secondary literature: bibliographies, biographies, monographs, comments, thematic and comparative studies. Moreover, the Foundation offers a large store of background literature: reference books, information on Ireland, Catholicism, mythology, general literary history, literary theory — whatever is useful in research and furthers a better understanding of Joyce's work. There are also dissertations, studies, essays.
Of particular interest: Thom's Dublin Directory of 1904, an original copy of "The Day of the Rabblement."
Journals
The Foundation has a complete set of some out-of-print Joyce publications (James Joyce Review, A
Wake Newslitter) and subscribes to all the current ones: James Joyce Quarterly, James Joyce Broadsheet, James Joyce Literary Supplement, A Finnegans Wake Circular, European Joyce Studies, Irish Literary Supplement, Joyce Studies Annual and Joyce-related single issues of journals, magazines, typescripts and off-prints. A number of theses and dissertations have been donated to the Foundation.
Ideally we would like to stock everything related to Joyce and are eagerly looking for ALL kinds of Joyceana. We are grateful to authors who send us their work and we like to be notified of all pertinent publications.
Audio /Video
The collection of records, cassettes, CDs and DVDs consists of various readings of Joyce's works, including his own reading from the "Aeolus" episode and from "Anna Livia Plurabelle", the centenary production of Radio Telefís Eireann of Ulysses and a complete German reading of Ulysses, as well as readings from Dubliners, A Portrait of the Artist and Finnegans Wake, and numerous performances of Molly's soliloquy in English and German. The audio collection also includes recordings of Joyce-related music: arias, Irish songs, and music hall. Apart from the librettos and song books, the music section holds scores of settings of Chamber Music and Pomes Penyeach, as well as some original settings like Stephen Climax by Hans Zehnder.
The video collection includes John Huston's The Dead, Joseph Strick's Ulysses and A Portrait of the Artist as a Young Man, Mary Ellen Bute's Finnegans Wake, The Abbey Theatre Company's production of Exiles, Werner Nekes' Uliisses, and many other plays and televised programmes about James Joyce.
Autographs
The Foundation has a modest collection of autographs which includes about 150 letters and postcards written by Joyce as well as letters from friends and acquaintances, the great majority of which come from the bequest of Carola Giedion-Welcker. One small slip of paper has the original draft of what became a few sentences in Finnegans Wake (244.35-245.3).
Policies regarding copyrighted material from the Joyce Foundation
Art Work
The Foundation has portraits of Joyce by Frank Budgen, Horst Janssen, Wilhelm Gimmi, Louis le Brocquy, Tullio Pericoli, Lawrence Lee and others. There are also drawings and illustrations of the works by Paul Flora, Rudolf Mumprecht, Robert Motherwell, Henri Matisse, Louis le Brocquy, Wilhelm Föckersperger, and Aldo Bachmayer.
The Foundation holds photographs of Joyce by Gisèle Freund as well as those of Joyce in Zurich taken in 1938 by Carola Giedion-Welcker. There is also a substantial collection of Joycean caricatures.
The Lawrence collection is the largest collection of photographs documenting Ireland from the late 19th century. The Foundation has acquired a number of prints from the original glass plates held at the National Library of Ireland which document Joycean locations in Dublin.
There is furthermore a large and growing photograph collection of Joyceans and Joyce events, both within the Foundation and from various Joyce conferences.
Photographic and other material is available to publishers, museums, etc. (please inquire about fees).
The Death Mask
One of the four original death masks (from the Carola Giedion-Welcker bequest) resides in the archive, as well as some personal effects such as a suitcase and walking sticks.
Realia
Artifacts relating to Joyce include a Jacob's biscuit tin, jars of Plumtree's Potted Meat (empty), vanishing cakes of lemon soap, a few items of contemporary clothing, funeral habits and two moustache cups the likes of which Milly gave to Bloom. Some old newspapers of the turn of the century are complemented by facsimiles of the Freeman's Journal, The Irish Times and The Evening Telegraph of the 15th and 16th June 1904.
We also have more than 50 T-shirts from Joycean events around the world, including the International Joyce Symposia and Bloomsday events and other ephemera like programmes, playbills, buttons, board games, playing cards, medals and other souvenirs. And finally, a large collection of posters from Joyce conferences, symposia and exhibitions rounds off the collection.
Acquisitions
Frank Budgen's papers have been given to the Zurich James Joyce Foundation. Among these papers are letters, drafts, and photos including 2 telegrams from Joyce, 2 letters from Joyce, 5 letters from Lucia, letters from Stuart Gilbert, Sylvia Beach, Jane Lidderdale, Harriet Weaver, Paul Léon, Ezra Pound, Ottocaro Weiss and others.
Policies regarding copyrighted material from the Joyce Foundation