Joyce Translation Scholarship and Looren Residency 2022
Translation Scholarship and Looren Residency for Irish Literature 2022
The Friends of the Zurich James Joyce Foundation Scholarships 2022
City of Zurich Scholarships / Other Scholarships
Joyce Translation Scholarship and Looren Residency 2022
This scholarship is offered by the Friends of the Zurich James Joyce Foundation and Translation House Looren.
Applications are invited from translators with an ongoing translation project of a work by James Joyce that they will continue working on while in Switzerland. The scholarship does not support completed translation awaiting publication.
Call for applications: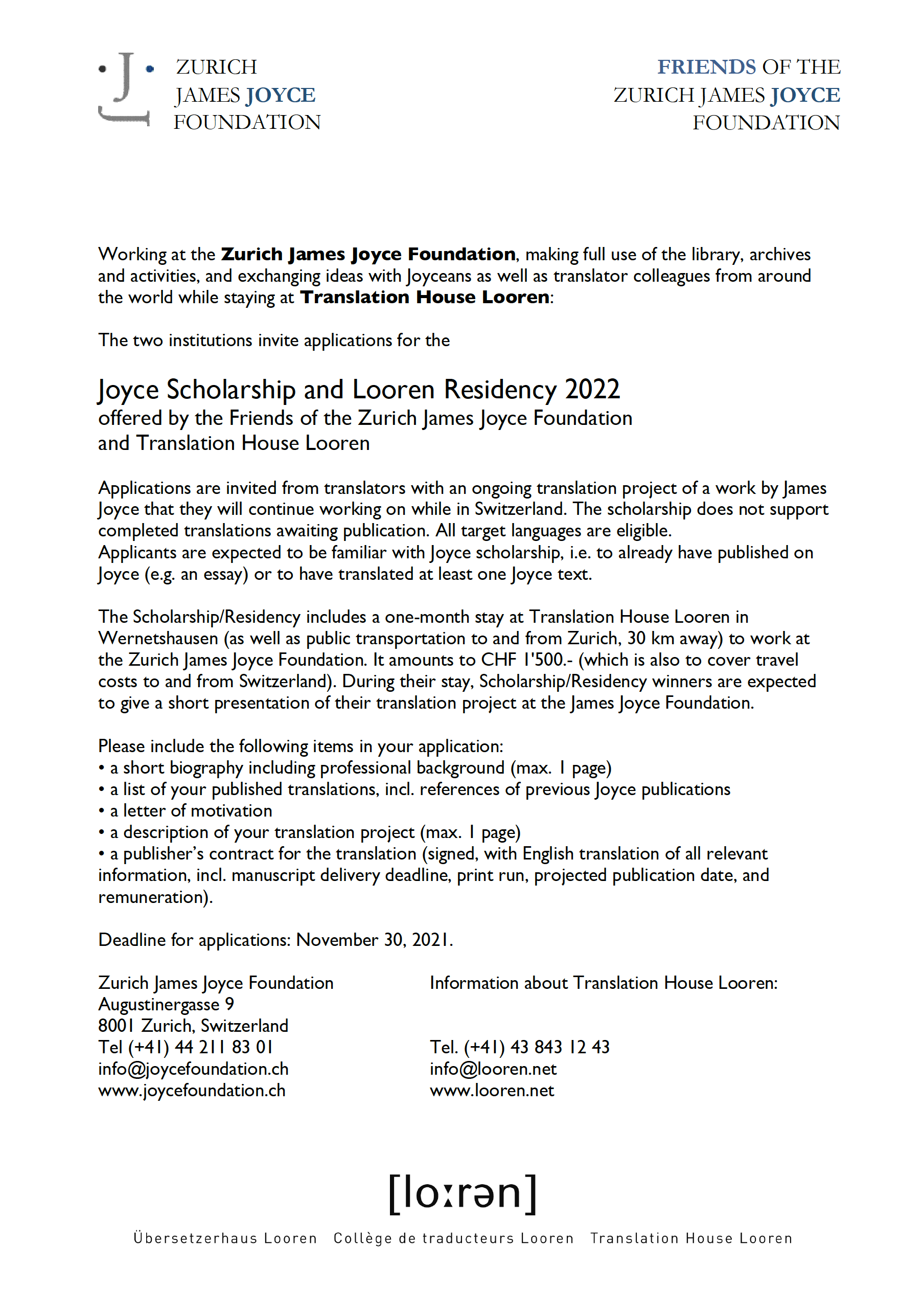 Deadline for applications: October 31, 2021
Recipients (2016 to present)
       2020
       Vitor Alevato do Amaral (Brazil)

2019
Rodrigo Olavarría (Chile)
2018
Nilüfer Ilkaya (Turkey)
2017
Rareș Moldovan (Rumania)
2016
Pablo Ingberg (Argentina)
Farid Ghadami (Iran)
Translation Scholarship and Looren Residency for Irish Literature 2022
This scholarship is offered by the Swiss Centre for Irish Studies@Zurich James Joyce Foundation and Translation House Looren
Call for applications: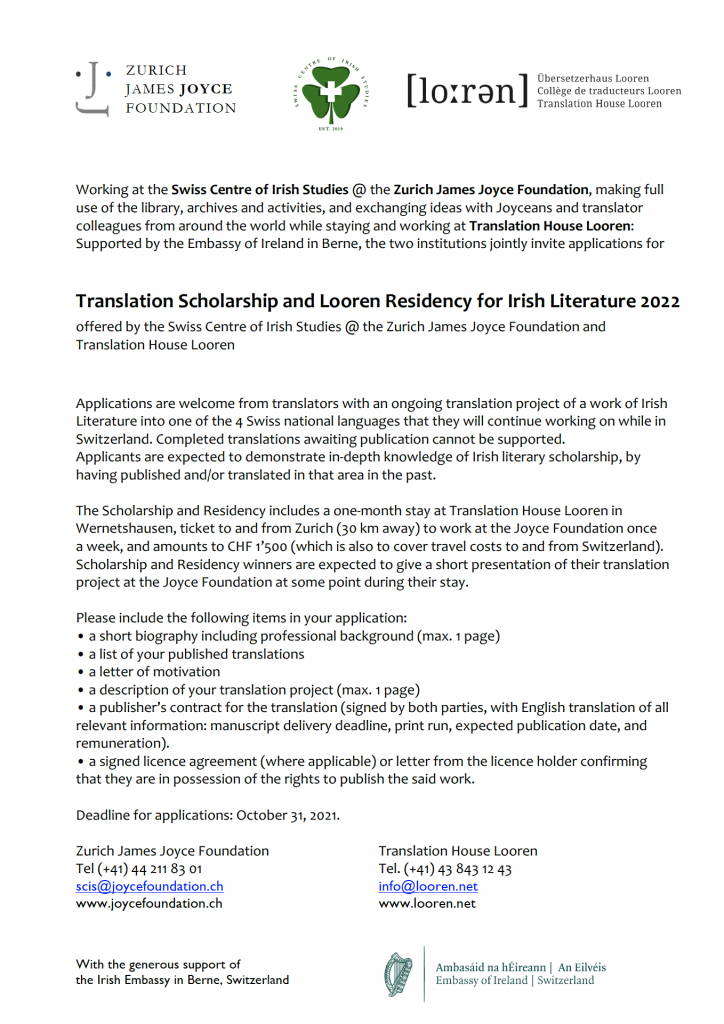 Deadline for applications: October 31, 2021
The Friends of the Zurich James Joyce Foundation Scholarships
The Friends of the Zurich James Joyce Foundation invite young scholars, particularly students engaged in a specific project, to spend one or two months at the Foundation, making full use of the library facilities and archives as well as exchanging ideas with residents and visiting experts. The scholarships are intended for researchers with a well-advanced project. They are based on merit, and are awarded without regard to gender or national origin. A stipend of CHF 1,500 per month is awarded for lodging and other expenses. If you are interested in a scholarship, please send a short application by October 31 of the year preceding your proposed period of residence. The application should include a 400-800 word outline of your project addressed to the Friends of the Zurich James Joyce Foundation, Augustinergasse 9, 8001 Zurich, Switzerland
(email fritzsenn@mac.com, info@joycefoundation.ch and gabischneider@4ambach.ch).
___________________________________________________________________________________
Books by ZJJF Scholars 
Below is a running list of the Zurich James Joyce Foundation scholarship recipients from 1999 to the present. These scholars have published numerous articles and books on a wide rages of topics. To find out more about the scholars recipients and they books they have published, click here.
___________________________________________________________________________________
Recipients
2020
Katharina Rajabi (Germany)
Georgina Binnie (UK)
Arianna Autieri (UK/Italy)
Tiana Fischer (Germany/Ireland)
2019
Alberto Tondello (Italy)
José Vergara (USA)
Casey Lawrence (Canada/Dublin)
Akram Pedramnia (Iran/Canada)
Iva Dimovska (Macedonia/Hungary)
2018
Joshua Torabi (UK)
Flavie Epié (France)
He Huang (China)
Yaeli Greenblatt (Israel)
2017
Alexander Ryan (UK)
Giovanna Vincenti   (Italy)
Ashraf Noor (UK)
Shinjini Chattopadhyay (India/USA)
Sara Spanghero (Germany/Italy)
2016
Genevieve Sartor (Canada)
Barry Spence (USA)
2015
Talia Abu (Israel)
Sameera Siddique (Singapore/ Germany)
Halila Bayramova (Azerbaijan)
Nina Krajnik (Slovenia)
Marco Camerani (Italy)
2014
Tamar Gelashvili (Georgia)
Izumi Iwashita (Japan)
Mina Duric (Serbia)
Victoria Lévêque (France)
Dominik Wallerius (Germany)
Tamara Radak (Austria)
2013
Vaclav Paris (Czech Republic/UK/USA)
Philipp Keel Geheber (Ireland/USA)
Veronika Kovacs (Hungary)
2012
Stephanie Boland (UK)
Rie Shimokawa (Japan)
Chrissie van Mierlo (UK)
Camilla Mount (UK)
2011
Elizabeth Bonapfel (Germany/USA)
Rebekah Frumkin (USA)
Yvonne Yi-Ping Lai (Belfast/Taiwan)
Rita Sakr (Lebanon)
2010
Norah Maki (USA)
Matthew Hayward (UK)
Davjola Ndoja (Albania)
Andreas Weigel (Austria)
2009
Annalisa Volpone (Italy)
Thomas Gurke (Germany)
Alison Lacivita (USA)
Eleni Loukopoulu (Greece)
John Bishop (USA)
Hsin-yu Hung (Taiwan/England)
Vike Plock (Germany/UK)
2008
Nicholas Morris (Dublin/ USA)
Liam Lanigan (Ireland)
Yi-Ling Yang (Taiwan)
Hayat Erdogan (Germany)
Michelle Witen (Canada /UK)
Christopher Whalen (UK)
2007
Elena Voj (Romania)
Erika Mihàlycsa (Romania)
Cinzia Valenti (Italy)
David Vichnar (Czech Repubic)
Scarlett Baron (UK)
Amanda Sigler (USA)
Ronan Crowley (Ireland)
Arkadiusz Luba (Poland)
Philipp Roessler (Germany)
2006
Michiyo Goda (Japan)
Hsiu-Yuan Chen (Taiwan/Holland)
Ivana Milivojevic (Serbia/Ireland)
2005
Natasha Tarpley (USA)
Katie Brown (USA/Ireland)
Vike Plock (Germany/UK)
Andres Pérez Simon (Spain)
Véronique Scheyvaerts (Belgium)
2004
Anna Maria Kager (Holland)
Diana Stefanova (Bulgaria)
Asaph Talmi (Israel)
Serenella Zanotti (Italy)
Irena Grubica (Croatia)
2003
Beata Golenska (Poland)
Keri Ames (USA)
Ilonka Persic (Croatia)
Olenka Fomenko (Ukraine)
2002
Jared Greene (USA)
Zsuzsa Csikai (Hungary)
2001
Olga Vicente (Spain)
Anna Hult (Sweden)
Catrin Siedenbiedel (Germany)
Ilaria Natali (Italy)
2000
Arleen Ionescu (Romania)
Conor Wyer (Ireland)
Marianna Gula (Hungary)
Susana Tosca (Spain)
1999
Olga Fernandez Vicente (Spain)
City of Zurich Scholarships
Funds supplied by the City of Zurich enabled the Foundation to offer six-month scholarships from 1988-1999. Foundation scholars included:
Susan Bazargan (Iran/USA) 1999
Mia Lerm-Hayes (Germany) 1996
Christy Burns (USA) 1993
Dan Schiff (USA) 1993
Andrew Treip (England) 1991
Chitra Panikkar (India) 1990
Lynn Childress (USA) 1989
Marlena Corcoran (USA) 1988
Other Scholarships
Naturally your own home university or some local institution (like Erasmus) may have research grants and may be able to send you to our Foundation for a few weeks or months.
Marianna Gula (Swiss Federal Grant 1999-2000)
Esther van Gelder (Erasmus 1996)
Ron Hoffman (Erasmus 1995)
Katharina Hagena (Daimler-Benz Stipendium 1994)
Jin Di (Pamela and Paul Fritz Literary Agency Grant 1994)
Yasmin Haq (French Ministry of Education Grant 1986)